Our story doesn't start with the founding of 208 Moving LLC, but much earlier—back when Matt and Drew we were navigating the uncertainties of young adulthood. Both of us had initially taken the traditional college path, only to discover it wasn't quite the right fit for us. The ensuing years were a whirlwind of various jobs including a Boise moving company—little did we know this experience would shape our future in ways we hadn't imagined.
After a couple of years of working at the moving company, we took on more adventures. One of us ventured into the challenging realm of working for the Forest Service, fighting wildland wildfires, while the other embraced the discipline and duty of military service. However, even these bold pursuits left us pondering our life's trajectory.
It was during one of those moments of reflection that we decided to take a leap of faith and bet on ourselves. The idea of starting our own Boise moving company took root, driven by a shared vision for a business that went beyond the ordinary. And so, 208 Moving LLC was born—a testament to our journey from uncertainty to entrepreneurship.
Today, as we look back, we're proud of how far we've come. This journey has not only shaped our local business but has given us a profound appreciation for the challenges that come with change and growth.
Join us in exploring the rest of our story, as 208 Moving LLC continues to evolve and make its mark as an Idaho moving company providing local to long-distance moving services.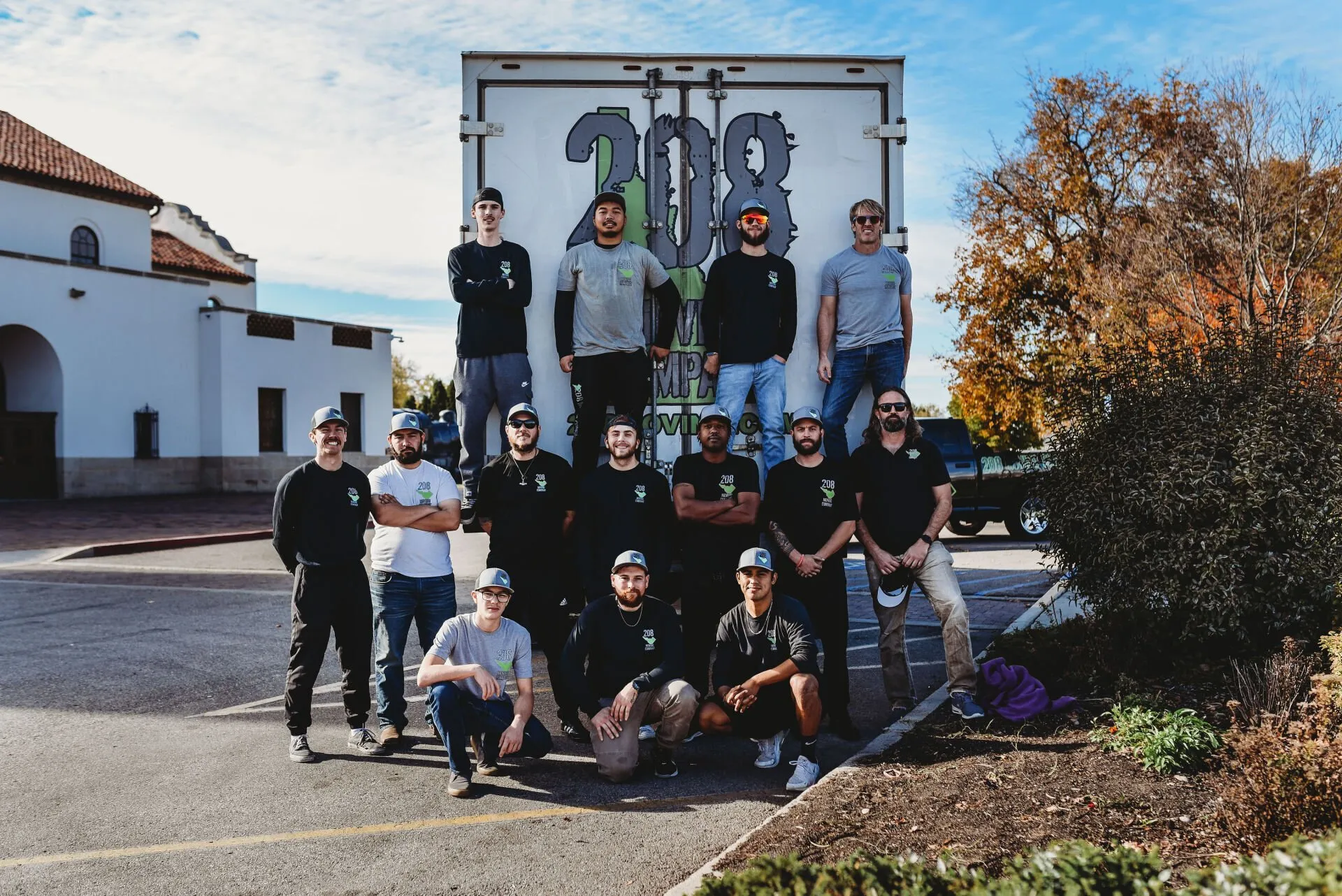 Luke
General Manager

Luke is an Idaho native who has lived in Boise for 10 years. With more than 20 years of experience in customer service and sales, he also has more than four years of experience in the moving industry. His experience includes working with the crews on the trucks and running the office.
Luke enjoys having the freedom to focus on empowering the team, growing the business, and making customers happy at 208 Moving Company. He knows the importance of trusting who moves your possessions.
In his free time, Luke likes to spend time with his partner Amanda and their two dogs. They can often be found skiing, mountain biking, or hiking, depending on the season.
Rob
Sales Manager

Rob has been a Boise resident for most of his life. He enjoys spending his free time outside hiking, boarding, rafting, and golfing. He graduated from Boise State University several years ago with a degree in criminal justice.

He traveled the world as he worked with C-130s in the Idaho Air National Guard for 10 years. He enjoys working for 208 Moving Company.
Brett
Operations Manager

Brett is an operations manager who has been with 208 since 2019, ensuring a smooth experience for our customers and crew with every move. He is finishing up his senior year at Boise State University and will graduate with an economics degree and a minor in film production in May. Brett would like to go into financial management but also wants to help grow the company for a while after graduation. When not doing school or work, he enjoys spending time with friends and family, painting, coaching youth lacrosse, and plans to learn the drums.
Scout
Office Dog

They call me the tail-end specialist on the moving crew, and not just because of my nubby tail. What I lack in opposable thumbs I make up for in enthusiastic barks and a paw-sitive attitude. With a dinnertime of 4pm sharp I keep the crew on schedule. No matter how ruff the job gets, as the top dog on the team, I'm always here to lend a paw.
Bo
Operations Manager
Bo is an essential member of our 208 moving family, with 2.5 years of experience and commitment to our company. He's a team player who thrives on collaboration. He understands that successful moves depend on the collective effort of the crew, and he's always there to lend a helping hand and motivate his colleagues. Outside of work, Bo has a different kind of passion - hunting. He enjoys the great outdoors, where he can sharpen his skills and appreciate the beauty of nature. This love for hunting reflects his determination and focus, qualities that are equally valuable in his work.
Brad
Crew Lead / Driver
Meet Brad, an invaluable member of our moving crew who has dedicated over four years to our company. Brad's commitment and dedication to the team are unparalleled. Not only does he bring his considerable experience to every job, but he also boasts two Bachelor's degrees, with his most recent achievement being in Construction Management. This academic background has allowed John to bring a unique perspective to our projects, ensuring they run smoothly and efficiently. Beyond his professional accomplishments, Brad has a passion for hunting and is a certified DOT (Department of Transportation) professional, reflecting his unwavering commitment to safety and excellence. Brad's multifaceted talents and dedication make him an essential asset to our team, and we're grateful to have him as part of our crew.
Joslyn
Office Manager

A recent addition to our team who has quickly become an integral part of our workplace. With just a few months under her belt, she has already made a significant impact on our day-to-day operations. Currently a freshman at Boise State University, she is pursuing a degree in environmental sciences, showcasing her commitment to a sustainable future.

Her enthusiasm for the friendly work environment is contagious. When she's not ensuring everything runs smoothly in the office, you'll often find her outside, indulging in her passion for the great outdoors. Whether it's hiking, camping, or simply enjoying nature's beauty, our Joslyns love for outdoor adventures knows no bounds.
All of our movers have undergone a background check and supervisory training upon being hired.